Hi wonderful people, as holidays are approaching, we have prepared you the New Mode of Infinity Kingdom!
Yeah, as we have promised, a Brand New Mode: Mysterium will be launched with the 0.14 patch! Besides, The Supreme Goddess of War, one of the Gnome King's three most fearsome generals, owner of Shadow Element Machines, and breath-takingly beautiful one- Malena, is about to invade Norheim! And one more thing, Relocate Server is an option now!
OK, check the patch details if you would like to keep reading!
[Patch Highlights]
1.New Mode: Mysterium
Mysterium is unlocked when your castle reached Lv.15. It will reset every 48 hours, at 24:00 UTC. The Mysterium consists of 3 levels, each with an independent challenge map. After defeating the final boss, you can enter the next level by taking the portal. In your challenge trip, various secrets are waiting for you to discover. So, ready to go?
·Immortal Mirror: It allows you to invite a powerful Immortal to assist you in battle.
·Mysterium Chest: These Chests are full of marvelous rewards. Keep going to win more of them!
·Mysterious Shop: The merchant comes again! He brings special discount items that you won't want to miss!
·Mysterium Battles: Into the new battles, defeat your foes and you will be rewarded handsomely! And trigger the "Lost Souls", you can choose one of the three battle buffs to improve the chances of winning subsequent battles! Please manage your HP carefully as you will not get a fresh life unless all the battles have been completed. Last but not least, defeating final boss will reward a lucrative amount of Immortal Fragments!
·Healing Amulet: It able to heal most injuries, and reestores 50% HP to all surviving Immortals.
·Spring of Life: A gift from the Goddess that can resurrect a dead Immortal. If there are no dead Immortals, heals the Immortal with the lowest HP.
·Portal: It will take you to a new trial site!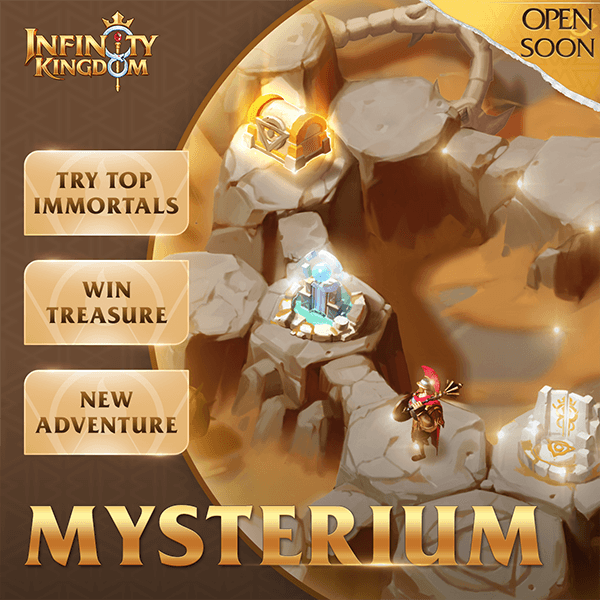 2. New Mode: Titantula
The mysterious Gnome general Malena is driving her shadow elemental machine – Titantula to invade Norheim! During the event, the Titantula will appear at a random location on the continent at 0:00, 4:00, 8:00, 12:00, 16:00, and 20:00 UTC. The Titantula will spend 2 hours accumulating Energy, during which time it is sealed and cannot be attacked. When the Titantula has finished accumulating Energy, the seal is lifted, and is susceptible to attacks! The Lord who dealt the final blow will receive a huge bonus reward!
Tips: While the Titantula is accumulating Energy, Lords can move your Territories to the location, and nearby Lords will gain terrain advantage! Lords can teleport to an area within 5km of the Titantula for free once per day.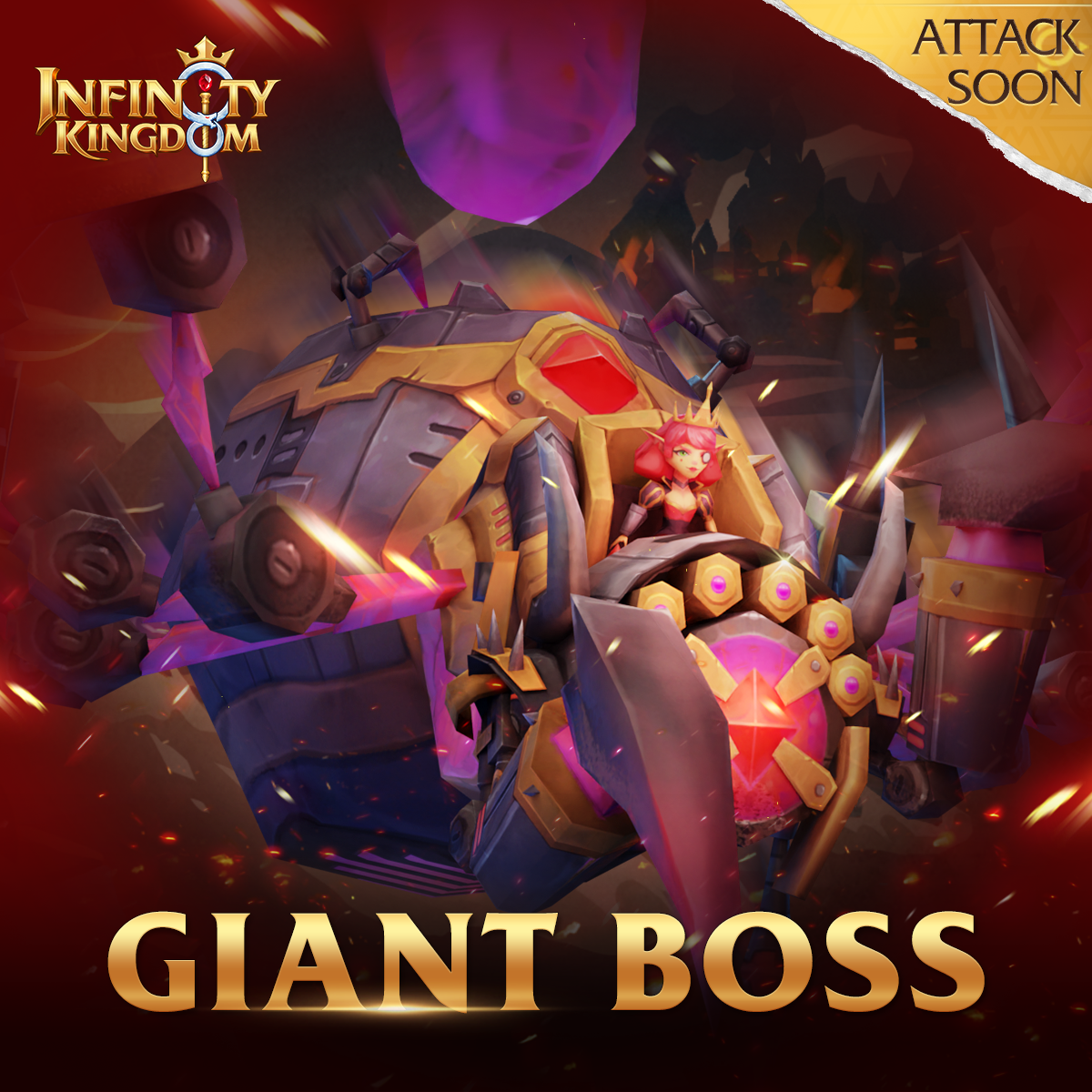 3.Server Relocation
Still worrying about no more rivals? Still upset for no more living space in game? Take this space portal of Server Relocation! Select an available server to relocate, and meet your worthy opponents! Certainly there are also some requirements:
A.Main Ones:
·Beginners: From completion of "Expel Gnomes 2" to "Counterattack Horn II" in the Chronicle, Lords with Lv. 8 or lower Castles can initiate relocation.
·Veterans: "Kingdom's Glory V" completed in the Chronicle, kingdom existed for over 90 days, while at the same time, never reached 1,000,000 Power. Those veterans are qualified for relocation.
B.Others:
·At least have 1 Cross-Server Teleport;
·Your Troops are all Standby;
·You are not in Bloody Rage;
·No Garrison Troops in your City;
·Haven't joined in any Alliance yet.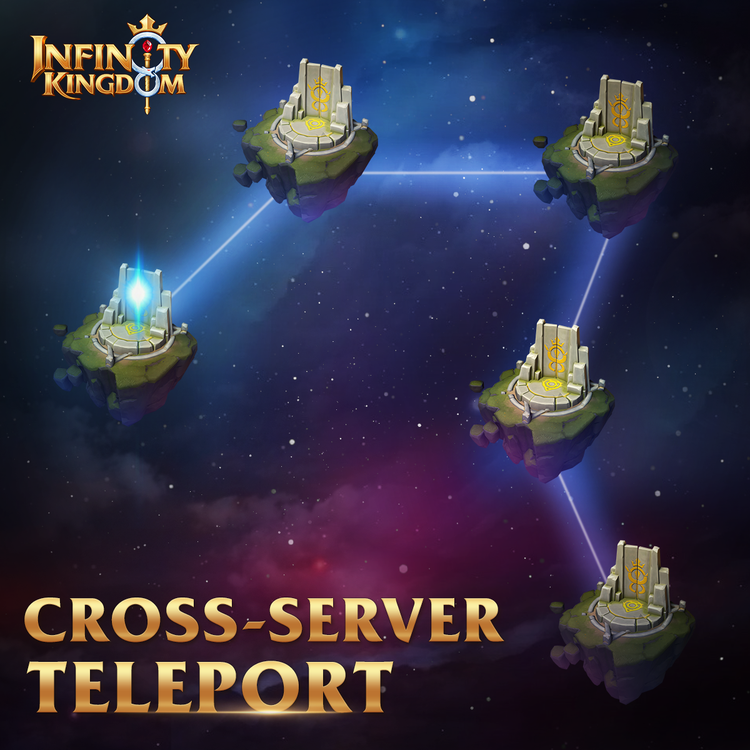 4.World Map
The World Map has seen many tweaks and adjustments in this patch. To lighten burdens of players, all the towns will be removed, and some City's Occupation Bonus also have also been rebalanced. There is also thisCity Construction: after occupying a city, Alliance could get together to construct it and be rewarded. Now maintaining a city will be even lucrative than before! For Alliances whose towns are removed, humongous compensations will be delivered. So there is really nothing to worry about!
5. City Construction
Alliance members could get together to construct a city after occupying it. Assign troops into the city and construct it. The city will be upgraded after the construction is completed. Upgrading a city and get the following bonuses:
·Increase City Tax and Occupation Bonus;
·Increase Wall Durability, Number of Defenders, Garrison Power
·Participate in City construction will grant Alliance Contribution, which could be used to purchase items from the Alliance Shops.
6.Auto Raid!
Say no to grinding! Auto Raid will be unlocked when you reach Lv.12. Set a specific type and level of Gnomes, assign your units and AP, go and raid! Rewards will be continuously delivered to you during the Raid time.
[Feature Optimizations]
1.Battles
A)After being defeated, a brand new Second Wind Pack will be sent to you;
B)Elemental Aura Optimization: Elemental Aura buffs could be stacked.
·Deploy 3 units of the same element at the same time, and your entire troop receives buffs: Immortal Physical Defense and Immortal Magical Defense +20%;
·Deploy 4 units of the same element at the same time, and your entire troop receives buffs: Immortal Physical Attack and Immortal Magical Attack +20%;
·Deploy 5 units of the same element at the same time, and your entire troop receives buffs: Troop HP +10%.
2. Immortals
A) Immortal Optimization:
-Julius Caesar:
·The skill buff: Inflicts Physical damage(Damage Rate 200%) to all enemies within a certain range, and has a 60% chance of Disarming the enemy target with the highest Physical Attack and the highest Magical Attack, to reduce enemies'Damage by 30% for 8 seconds.
· Damage Rate at max level reduced from 240% to 200%;
· Damage Reduce at max level increased from 25% to 30%;
· Disarm chance increased from 45% to 60%.
B)Immortal Skills Optimization:
·Alexander the Great: Add Passive Skill – Increases Normal Attack Damage by 50%.
·Cleopatra: Reduced the dealt Magical Damage of 2 enemy targets with the highest Magical Attack by 50%(max) for 6 seconds.
·Harald Ⅲ: Defense Down at max level reduced from 50% to 35%.
·Ashoka: Damage Rate at max level reduced from 450% to 420%.
C)Immortal Attack Speed Optimization:
The Attack Speed of Hannibal Barca, Alexander the Great, Spartacus is increased by 20%.
D)Immortal Reborn:
Immortal Reborn in Alchemy Lab will no longer consume Gems.
3.Alliance
A) Alliance Technology: Vast Territory - now has only 1 level. 1. The number of Alliance occupied cities increased from 0 to 3;
B) Alliance Technology: Big Family – Alliance's member cap increased from 5 to 10;
C) Alliance gains 1 territorial position per upgrade;
D) Gems required to create an Alliance increased from 500 to 800 gems.
4.Lord Talent
All the talents layout adjusted and new addition implemented.
New Talents:
·Divine Walker(Development): Marching Speed +50%, no AP consumption.
·Pleasant Surprise(Development): 2x Enchant Stone rewards when fighting Gnomes.
·Irresistible Force(Military): +10% Immortals Physical Attack.
·Rage(Military): +10% Immortal Magical Attack.
·Methodical Defense(Military): +5% Immortal Physical and Magical Defense.
·Body of Steel(Military): -10% damage received by allied units.
·Rank Advancement(Military): Receive 2x Honor after battle.
·Frighten(Military): -5% Enemy Immortal skill damage.
·Might of Longbow(Military): +10% damage dealt by backrow Immortals, with an additional +10% when fighting against an enemy unit with Ambush tactics.
·Energy Burst(Military): Energy Regen. Speed +10%. When fighting an enemy unit with tactics, the enemy's SP Recovery -10%.
Changed Talent:
·Otherworldly Helper(Development): Reduces the cool down time of free summons in the Hall of Immortals by 8 hours.
5.Tower of Knowledge:
·Cleave: Damage Rate at max level reduced from 100% to 75%.
·Rage Blessing: Energy Regen Speed at max level reduced from 100% to 50%.
6.Events
A)Daily Deals: The Immortal Fragments in the Daily Deals are replaced with Wishing Orbs, which can be used to redeem items in Orb Shop.
That's all the changes coming with Patch 0.14! Hype for the Mysterium, Titantula, Server Relocation, and City Construction? Spoiler alert! The Snow Festival is coming and everyone in Norheim is preparing for the big party. My dear lord, it's time to use your most whimsical decorations for this special occasion! Can't wait to see the entire Norheim flowing with fancy gifts and trinkets! And feel free to contact us if you have any queries or suggestions!
Infinity Kingdom team,
In this cold and gentle winter