April is the cruelest month, a time of fecundity and renewal. The upcoming version 1.2 of Infinity Kingdom will create a new order. With this update, we will introduce a new app icon. Let Merlin lead you back to Norheim! Version 1.2 brings new support for coordination that will allow Lords to show off their leadership skills. The new Political System now integrates cities and official posts into one panel, and the enhanced King system will allow Kings to reward their subjects, manage immigration restrictions, and even allocate debuffs to any player on the server. Extended Academy Technology tracks and Forbidden Zone Contract will further enrich your gaming experience. We cordially invite you to read this update log, and take part in the renewal of Norheim's order. We will present all changes here one by one.
HIGHLIGHTS
⬤NEW POLITIC SYSTEM
Tap the building opposite the Wall to enter the Political System panel. Here, you can see an overview of your city occupations, official posts, and orders. Alliance Leaders can allocate official posts of occupied cities on this panel, and no longer need to go around the world map to do so.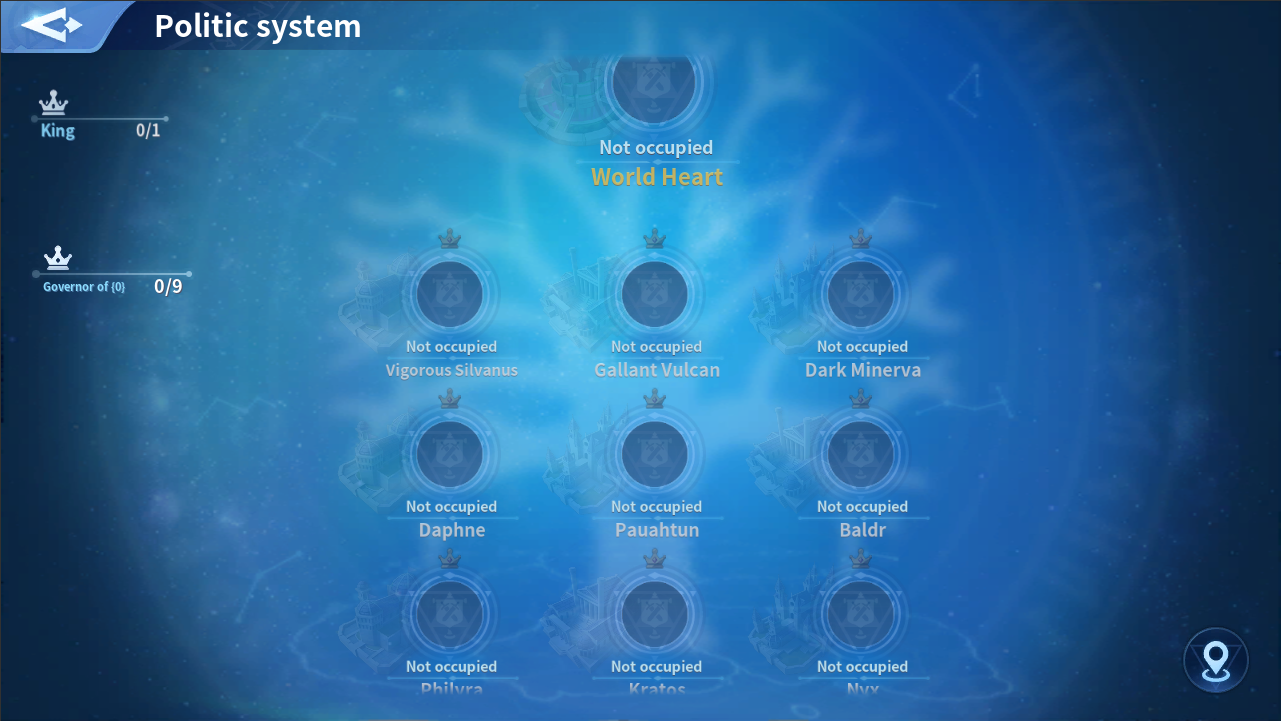 ⬤UPGRADED KING SYSTEM
The King's power will become far more formidable.
INTEGRATION - Information about World Heart official posts, orders, and previous Kings will be integrated into a new panel. You can access the King system by tapping the King button in the upper right corner of the Contention of Relics panel, or on the World Heart panel.
REWARDS - The King can allocate rewards from the King panel, to honor allied Lords for their outstanding performance in the Contention of Relics.
CONTROL - The King can set immigration restrictions and Power restrictions to influence the server's balance.
PUNISHMENT - The King can appoint players to negative official posts, such as Treacher, Clown, Herdman, Servant, and Sweeper (with corresponding debuffs) to punish Lords who defy the King's will.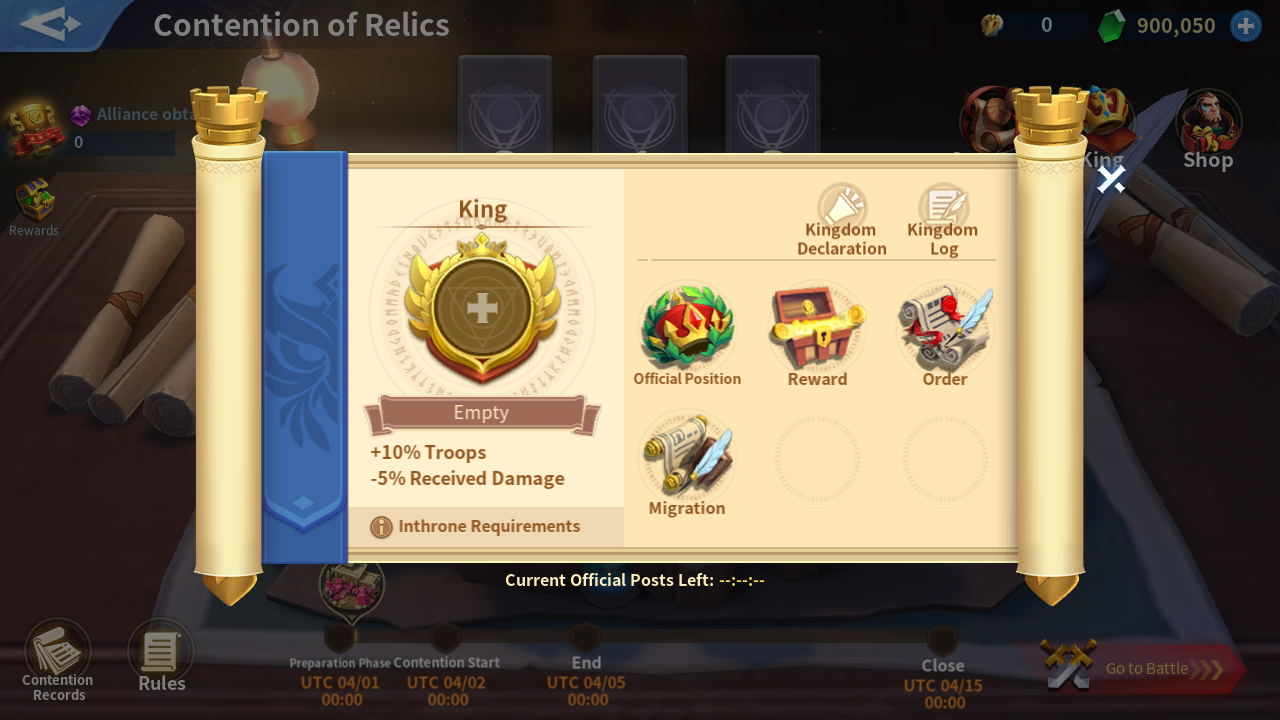 ⬤FORBIDDEN ZONE CONTRACTS
Contracts will be available for the Contention of Relics. Alliance Leaders or individual players can choose contracts to sign. Alliance Contracts are to be completed by the whole Alliance. Personal Contracts are to be completed by each individual player. Contract rewards include Valor Marks, which can be used to redeem valuable items at the Mysterious Shop. In addition, the Mysterious Shop will now sell exclusive Forbidden Zone Avatar Frames (Laurel, Lionheart, Savant) to commemorate the results of the Contention of Relics.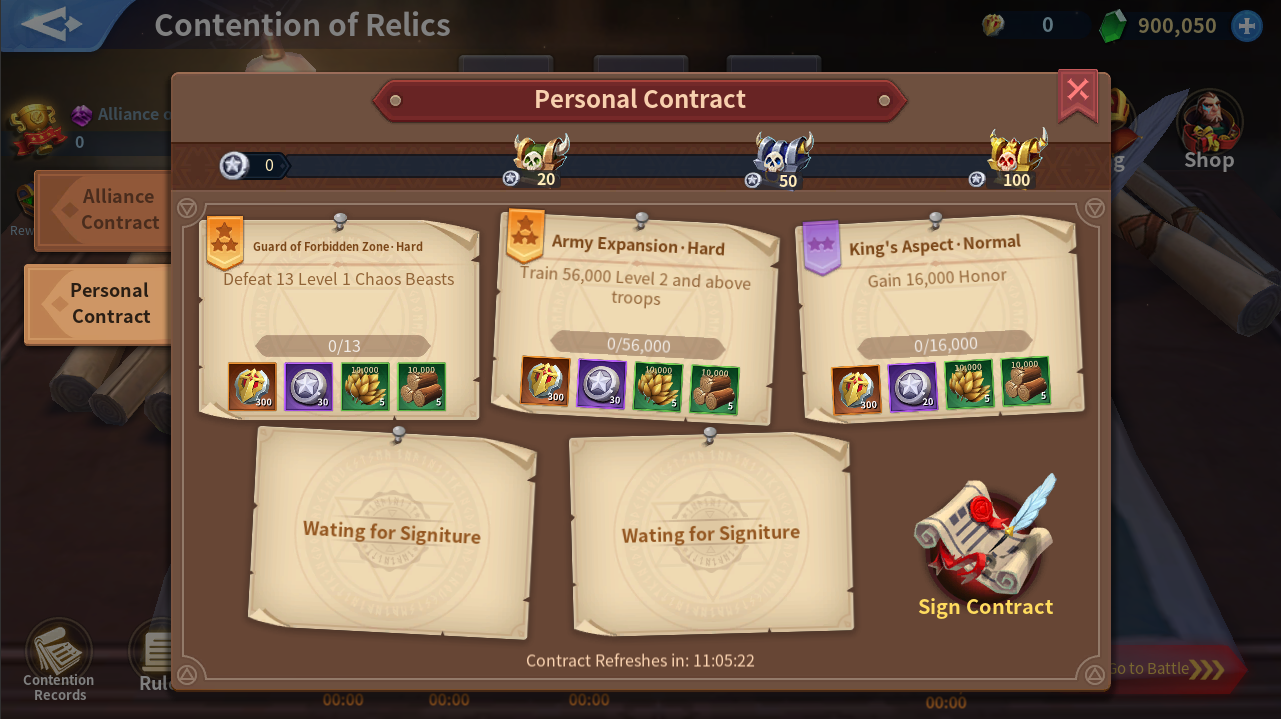 ⬤LOTS OF NEW TECHNOLOGIES
To increase the diversity of battles, a large batch of new technologies has been added to enhance the advantages of the different troop types. The vigor of Shieldmen, aggression of Spearmen, momentum of Cavalry, and agility of Bowmen can all be enhanced.
SHIELDMEN
Frontal Strike: Greatly increases Shieldmen Attack.
Invulnerable: Greatly increases Shieldmen Defense.
Rock Steady: Greatly increases Shieldmen HP.
Shield Block: Chance of blocking enemy's normal attack.
SPEARMEN
Spear Dance: Greatly increases Spearmen Attack.
Iron Will: Greatly increases Spearmen Defense.
High & Mighty: Greatly increases Spearmen HP.
Spear Swipe: Normal attacks have a chance of sweeping an enemy row.
CAVALRY
Mounted Charge: Greatly increases Cavalry Attack.
Armoured Horse: Greatly increases Cavalry Defense.
Sturdy Build: Greatly increases Cavalry HP.
Lance Trust: Normal attacks have a chance of stunning the target for 3s.
BOWMEN
Enhanced Crossbows: Greatly increases Bowmen Attack.
Archer Armor: Greatly increases Bowmen Defense.
Great Vigor: Greatly increases Bowmen HP.
Double Shot: Normal attacks have a chance of attacking the enemy 2 times.
OPTIMIZATIONS
⬤TOWER OF KNOWLEDGE
Deployed Immortal recommendations have been added. Places where Tower of Knowledge skills can appear will come with a list of recommended Immortals who have been deployed to help you quickly choose which skills to learn.
⬤TERRITORY EMOJIS
Now more convenient and with wider applicability. Just tap and hold your Territory on the world map to bring up the emoji panel. Marching troops can now use emojis as well. Emoji duration has also been extended from 3s to 6s.
⬤MYSTERIUM
Tap the chest icon on the top right of the Mysterium panel to view all the rewards you have obtained during the current adventure.
⬤COORDINATES BOOKMARKS
The Bookmarks page will remember which bookmark you last viewed. When you open Bookmarks again during the same session, it will automatically skip to this last viewed coordinates bookmark.
⬤OFFICIAL POST AVATAR FRAMES
We have added official post Avatar Frames and markers to make your identity clear. Your avatar and official post Avatar Frame will be displayed above the city and in the Political System panel. Official post markers will be displayed on your profile, in chat channels, in relevant city information panels, and more.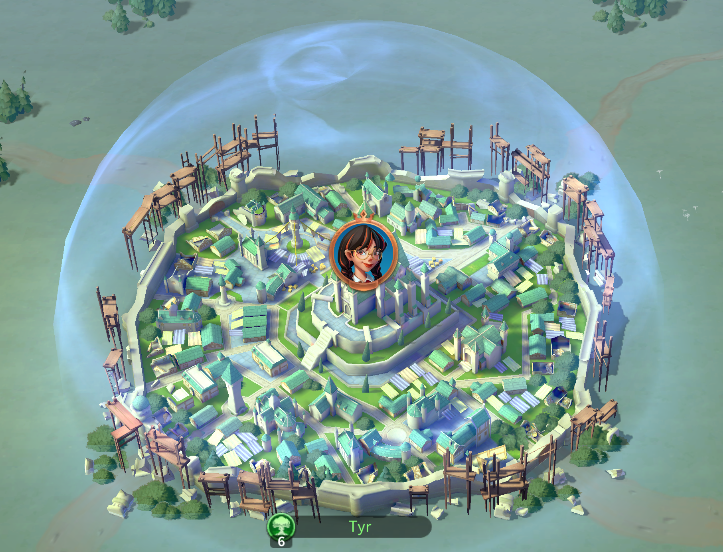 ⬤RESOURCE SITES
To increase the fairness of resource gathering, we have made resource site refresh times more evenly distributed, so players from all time zones have the opportunity to gather the newest resources.
⬤MARCHING SKINS
When a Lord using the Dark Fortress or Forbidden Zone Sovereign Territory Decoration is marching, their marching troops will also have a gorgeous cosmetic effect.
⬤ALLIANCE PACKS
Claim speed has been increased to create a smoother experience.
⬤TRANSLATIONS
Translations for various languages have been improved, so players of different languages can enjoy Norheim as it was intended.
⬤FORTIFICATIONS
Manufacturing capacity and shooting capacity added. Fortifications are now more effective in battles.
BALANCE ADJUSTMENTS
⬤CHRONICLE
To balance development progress between servers, time restrictions have been added to Chronicle events. Events cannot be unlocked unless the required time has been reached. Countdown timers will be displayed in the middle of the Events panel. Cities on the world map will also be gradually made available for occupation based on Chronicle progress. The max city construction level will also be determined by the Chronicle progress. Already occupied cities will not be taken back, and cities that were under construction when maintenance started will be completed directly. We have also removed secondary objectives for Chronicle 1, 2, and 3 to make the early objectives more unified.
⬤TRAINING GROUNDS
To protect passive defenders, we have reduced the troop casualty rate of the Training Grounds when defending.
Shadow Dragon Skills: The target of Dark Breath has been changed from the enemy unit with the lowest Physical Defense to a random enemy unit.
⬤King
Troops Bonus effect changed from 10% to 3%
⬤TOWER OF KNOWLEDGE SKILLS
- FIGHTING WILL
Damage Factor: 15/20/25/30/35/40/45/50 ⇒ 45/60/75/90/105/120/135/150
Root Duration: 4s ⇒ 6s
- RAGE
Crit Rate Increase Percentage: 7.5/10/12.5/15/17.5/20/22.5/25 ⇒ 4.5/6/7.5/9/10.5/12/13.5/15
- AGILE
Dodge Rate Increase Percentage: 7.5/10/12.5/15/17.5/20/22.5/25 ⇒ 4.5/6/7.5/9/10.5/12/13.5/15
- PRECISION
Accuracy Rate Increase Percentage: 7.5/10/12.5/15/17.5/20/22.5/25 ⇒ 4.5/6/7.5/9/10.5/12/13.5/15
- PENANCE
Resilience Increase Percentage: 7.5/10/12.5/15/17.5/20/22.5/25 ⇒ 4.5/6/7.5/9/10.5/12/13.5/15
- LIFE LINK
Trigger Chance: 60% ⇒ 50%
Shared Damage Percentage: 18/24/30/36/42/48/54/60 ⇒ 15/20/25/30/35/40/45/50
After the update, Rage, Agile, Precision, Penance, and Life Link will be reset to unlearned status, and players who have learned/upgraded those skills will be refunded Soul Crystals according to the following values.
For Rage, Agile, Precision, Precision, and Penance at levels 1-8, the Soul Crystals refunded for each will be: 2000/2840/4520/7880/14180/26780/51980/102380
For Life Link at levels 1-8, the Soul Crystals refunded will be: 20000/21200/23600/28400/37400/55400/91400/163400
⬤ACADEMY TECHNOLOGY
The new Academy Technology tracks greatly increase the strength of each troop type. Hence, we needed to modify the values of the original technologies to rebalance Academy Technology as a whole. The max level bonuses for the following technologies has been changed from 30% to 20%, but Power remains the same: Split the Earth, Forest of Blades, Strength of a Thousand, Arrow Storm, Steel Wall, Armed to the Teeth, Fully Armored, and Ceaseless Arrows.
That's all the changes coming with the Version 1.2 update. Let us know your thoughts, feelings, or complaints on Facebook or Discord. We take all your feedback very seriously, and are willing to listen to your suggestions. We will always work hard to improve the game experience. Merlin has raised his staff, and is preparing to cast a spell. Close your eyes and follow his footsteps to return to Norheim, and bear witness to the great changes to the continent.
Infinity Kingdom team,
Waiting for you in the rain of petals