Patch 2.3 Notes
The candles in the Wisdom Palace have been burning constantly since Patch 2.2. Many Lords have been studying for and taking its quiz of knowledge. In Patch 2.3, we will add more questions that have been contributed by the community. After considering your feedback, the developers have decided to increase the quiz duration to give you more time to answer the questions. This is just one of the many optimizations coming with Patch 2.3. Every corner of Norheim has been painstakingly improved—from relocation and Immortal fragments to the chat system. There are also brand-new Dragon Talents to unlock. All coming changes are included in these patch notes. Enjoy!
New Features
1. Dragon Talents
After meeting the unlock conditions, you can find Dragon Talents at the Dragon Skills interface in the Dragon Cave. The huge Dragon Talent Tree is full of nodes you can awaken to greatly increase your unit's Power.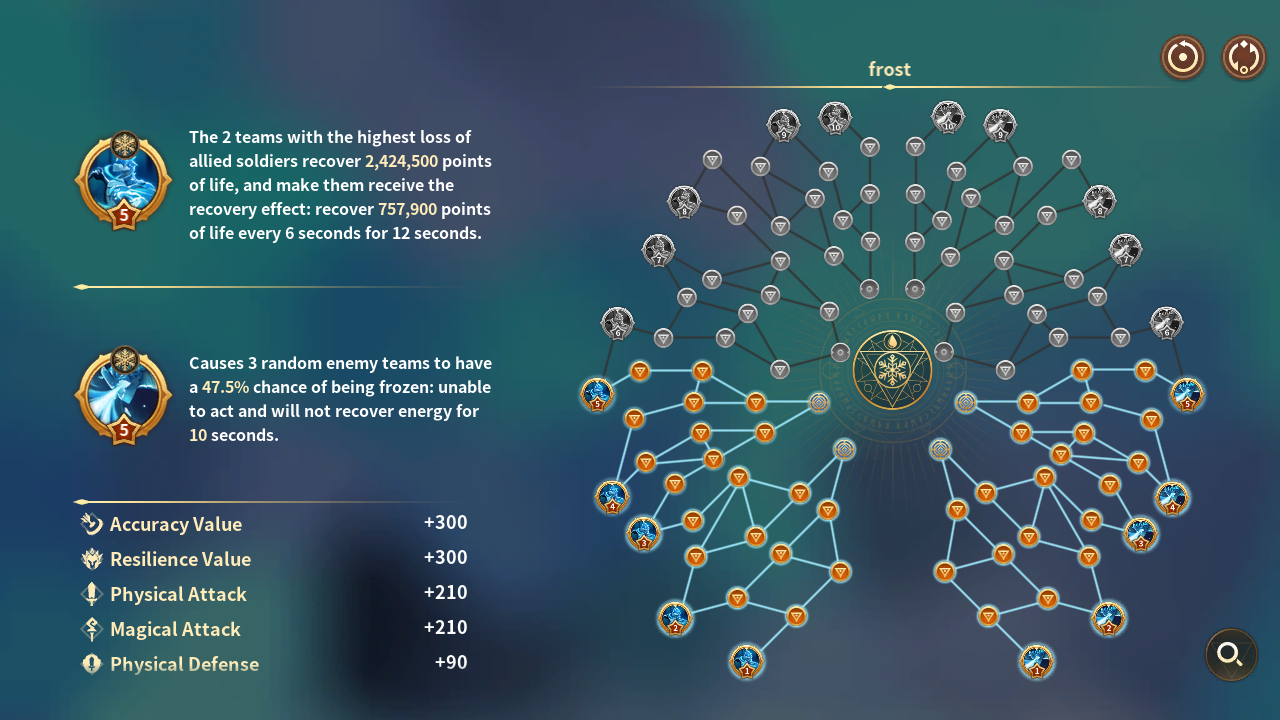 Unlock Conditions
1) Server: Server has reached Season 3.
2) Dragon Level: Reached Lv.40.
3) Dragon Skills: Two active dragon skills (dragon breath) have reached Lv.10.
Awakening Talents
1) Talent Path: After unlocking Dragon Talents, you can choose from three Talent paths to awaken. After awakening, both dragon's active skills will gain new effects based on the path chosen, and dragon attribute nodes will then become available to be activated.
2) Talent Tree: Skill upgrade nodes and attribute nodes are arranged on the Talent Tree in different orders. You can freely select the order in which you awaken nodes based on the Talent Tree's unlock conditions and path requirements.
3) Talent Nodes: Skill upgrade nodes determine Dragon skill upgrade level. Upgrade these nodes to increase the power of your dragon's ultimate skill. Attribute nodes are further divided into two types: normal attribute nodes and special attribute nodes. Normal attribute nodes affect the base attributes of all Immortals in the unit. Special attribute nodes can only be awakened after all surrounding normal attribute nodes have been awakened, and grant an even greater boost to Immortal attributes.
4) Skill Upgrades: Use Dragon Crystals and Dragon Essence on a skill upgrade node to upgrade the dragon's new skill effects.
5) Dragon Attributes: Use Dragon Crystals on an attribute node to awaken and upgrade the corresponding attributes.
6) Dragon Essence: There are several ways to obtain Dragon Essence. Follow the Calendar, Festival Events, and Shops in large-scale game mode (Legion's Vendor, Illusion Shop, Lucky Guess Shop) to obtain Dragon Essence.
Optimizations
1. Relocation
1) Added a description of the relationship between the highest Power and number of relocation items required for relocation to the Relocation interface. Tap the Details button on the right of the Relocate button to view this description.
| | |
| --- | --- |
| Lord's Highest Power | Relocation Items Required |
| 1-399,999 | 1 |
| 400,000-499,999 | 2 |
| 500,000-599,999 | 3 |
| 600,000-699,999 | 5 |
| 700,000-799,999 | 10 |
| 800,000-899,999 | 15 |
| 900,000-999,999 | 20 |
| 1,000,000-1,099,999 | 25 |
| 1,100,000-1,199,999 | 30 |
| 1,200,000-1,299,999 | 35 |
| 1,300,000-1,399,999 | 40 |
| 1,400,000-1,499,999 | 45 |
| 1,500,000-1,599,999 | 50 |
| 1,600,000-1,699,999 | 55 |
| 1,700,000-1,799,999 | 60 |
| 1,800,000 and above | 70 |
2) Added a Use button for relocation items to the Backpack. Tap it to quickly open the server list.
2. Knowledge Contest
1. New Question Type: Added a new question type: True or False. Simply answer if the given statement is true or false.
2. Longer Quiz Duration: Extended the quiz duration based on player feedback. In the Retrial, time limit per question has been extended from 15 to 25 seconds. In the Final Trial, time limit for the first five questions has been extended from 15 to 25 seconds, and time limit for the last five questions has been extended from 10 to 20 seconds.
3. Equipment
1) Rarity Divisions: Epic equipment is now divided into Epic, Epic+, Epic (S2), and Epic+ (S2) rarities. The new Epic (S2) and Epic+ (S2) rarities are available from Season 2.
2) Dismantling Equipment: Added an equipment dismantling filter to the Alchemy Lab. You can now filter equipment based on rarity and level.
4. Immortal Fragments
Optimized the description of how to obtain Epic Immortal fragments, helping you to quickly find the fragments you need.
5. Throne of the Supreme
1) Supreme Leaderboard: Optimized the display of the season's champion and runner-up, and added these to the off-season interface.
2) Champion Cosmetic Decoration: Added scrolling text that shows the Season ID (if the player has been champion once) or the number of championships won (if the player has been champion many times) to the "King of the Supreme" Territory Decoration.
6. Chat System
1) Alliance Group Chat: Added a button to quickly select all members of a certain Alliance Rank when creating a group chat.
2) Blacklist: Blacklist information for the current server now syncs to the Legion of Frostborne. Changes to the blacklist in the Legion of Frostborne will also be synced to the current server, and vice versa.
7. Blessings of Triss
If you already have 60 of a certain Ability Stone, or have already learned the corresponding skill, when you pull that Ability Stone again, it will automatically be converted into Cinder of Wish, which can be used to buy items in the Wish Shop.
8. Training Camp
1) Attribute Adjustments: Added numeral entry to the custom enemy unit feature, allowing you to quickly and accurately change relevant attributes.
2) Elite Trainers: Added an Elite Trainer service. You can purchase or subscribe to 3 months of custom enemy units, which also grants you 1,200 Gems and the ability to conveniently copy another player's unit from a Battle Report.
9. Ruins Puzzle
Optimized the visual effects and animations of the Ruins Puzzle.
Balance Adjustments
1. Berserker
Before: Increases Physical Damage by x%, Attack Speed by y%, but reduces SP Recovery speed by 75%, and disables any trigger-type skills equipped.
Physical Damage Increase (x): 10.5/14/17.5/21/24.5/28/31.5/35
Attack Speed Increase (y): 10.5/14/17.5/21/24.5/28/31.5/35
After: Increases normal attack damage by x%, Attack Speed by y%, but reduces SP Recovery speed by 75%, and disables any trigger-type skills equipped.
Normal Attack Damage Increase (x): 7.5/10/12.5/15/17.5/20/22.5/25
Attack Speed Increase (y): 7.5/10/12.5/15/17.5/20/22.5/25
2. Wind Dragon
Changed the target of Stormy Breath to Wind Immortals in the unit.
That's all the changes coming with Patch 2.3. Thanks for reading! If you have any questions, then please feel free to get in touch with us over Facebook, Discord, VK, or any other official channels. The dragons are whining in the Dragon Cave, impatient for their Talents to be awakened so they can grow stronger! Another patch notes reading conference is available on Facebook. Simply share your views on any part of the patch notes together with your ID for a chance to win fabulous rewards. Come to Facebook and share your thoughts with us now!
The Infinity Kingdom Team