We find ourselves once again in the wonderful month of May, accompanied by a new update for Infinity Kingdom. Keywords for the 1.3 patch could very well be 'fresh', 'abundant' and 'mysterious'. This patch includes a finely-tuned Immortal Artifact system for your journeys across the wondrous Mysterium, greater freedom to develop your Immortals, and a host of new content and optimizations to improve your Norheim experience. Can you imagine it? We have created a little microcosm of our developer studio right here in the land of Norheim from which you can check out what each member on the team is currently doing. We are also very happy to open up a beta trial for the much-anticipated Illusion Battlefield. We have two new Immortals in waiting, a digital representation of our busy IK studio that Lords can visit, a Forge resounding with the clang of Artifact forging… and many other nifty details. Let's have a look at the exciting features of the 1.3 patch!
NEW FEATURES
1. The Evernight Labyrinth: A fourth floor has been added to the Mysterium containing Artifact treasures.
⬤How to unlock: complete Chronicle Event 21 (Royal Ambition) and reach Castle Level 20 to unlock the fourth floor of the Mysterium: the Evernight Labyrinth.
⬤Basic Rules
a) A two-team challenge: Lords who challenge the Evernight Labyrinth must dispatch two groups of troops.
b) Phase rewards: The challenge takes place in three phases. Lords must select their preferred Artifact Schematic fragment reward at the start of each phase.
c) Jewel collection: The Keepers are surrounded by jewels in three different colors. Beat the challenge to obtain the jewels (collected jewels will reset when the phase is reset). Collect all six designated jewels to obtain the Schematic Fragment selected at the beginning of the current phase.
d) The final battle: The ultimate boss of the Evernight Labyrinth - the Labyrinth Judge - is challenged by both of your troop contingents once arrived.
e) An Artifact wellspring: The Evernight Labyrinth will reward successful challengers with plenty of Artifact Schematic fragments, which can be combined into Schematics.
2. Artifacts: MAX star Immortals have more room to improve.
Artifacts come in five types: Attack, Defense, Magic, Range and Support. These Artifacts are the long-lost relics of goddesses and have no earthly equal in Divine Power. Use these Artifacts to greatly enhance an Immortal's prowess.
⬤How to unlock the system: complete Chronicle event 21 (Royal Ambition) to unlock the artifact system.
⬤Equip conditions: Immortals may equip Artifacts when they have been developed to 7 stars. The Develop button on the Immortal display will then be replaced by an Artifact slot. Unlock this Artifact by spending a certain number of corresponding Immortal Fragments, enabling you to equip it. Immortals may only equip Artifacts consistent with their own Position (Attack, Defense, Magic, Range, or Support).
⬤How to get Artifacts: spend Artifact Schematics and Artifact materials at The Forge to create Artifacts. The "Coin Mint" has been renamed "The Forge". The original powers of the "Mint" have been upgraded with "Transmute" powers, allowing Lords to convert base resources into materials required to forge Artifacts. The Forge will receive this "Forge" power once the Lord has unlocked the Immortal Artifact system, enabling the forging of Artifacts.
⬤How to get Artifact Schematics: Lords can obtain Artifact schematics by combining Schematic fragments. These fragments may be obtained from the Market or the Mysterium's Evernight Labyrinth.
⬤How to get Artifacts materials: Artifact materials may be converted in the Forge out of basic resources or purchased directly from the Market. Higher-quality Artifact materials may be crafted out of lower-quality Artifact materials.
⬤Artifact Attributes
a) How to get attributes: Artifacts receive 1 (random) main attribute when first crafted plus a chance of one or more additional secondary attributes (as determined by the quality rating of that Artifact), and perhaps a possible special attribute.
b) Quality grades: Artifacts in the 1.3 patch can come in three different qualities: Uncommon, Rare, and Elite. This quality rating will determine an Artifact's base attributes, attribute caps, and the maximum number of secondary attributes possible (Uncommon allows for a maximum of 1 secondary attribute, Rare allows for 2, and Elite for 3).
c) Upgrading Artifacts: Artifacts begin at Level 0 and may be upgraded up to a maximum Level 15. Lords can consume other Artifacts to grant EXP to a preferred Artifact, thus leveling it up. Leveling up an Artifact will also boost its main attributes and possibly grant a new secondary attribute or enhance an existing secondary attribute with every 3 level upgrades.
d) Artifact development: Artifacts start with an initial Star Grade of zero. Only Artifacts with a special attribute can be developed. The maximum Star Grade for a particular Artifact is determined by that Artifact's quality rating. Lords will need to consume a certain amount of equipment of the same star grade and quality to develop an Artifact, which will boost its special attribute.
3. Illusion Battlefield: The trial is open!
⬤Trial overview: we will be randomly selecting a certain number of servers to take part in a small-scale Illusion Battlefield beta trial. The feedback from this trial will go into further improving Illusion Battlefield before a general release. We will be publishing the list of servers on our official Facebook page once confirmed.
⬤Battle warm-up: we have already released a guide to the backstory, play guide, registration system, and special buildings for the Illusion Battlefield which you can find by searching #illusionbattlefield on Facebook. Stay tuned for more reports on the Illusion Battlefield!
4. IK-Studio: Meet the IK creators in Norheim
⬤Developer studio entrance: a mysterious whirlpool has appeared over the water by the hospital's bottom left corner. Tap the whirlpool to enter the 'IK studio family'. You will find our friendly development team there has been transformed into cute little homunculi personas, beavering away at a more wonderful Norheim.
⬤Interact with us! - The studio has been divided into 4 different areas: Design and Operation, Programme and Quality Assurance, Art and User Experience Design, and Game Audio. Each zone has a like, downvote, and comment button at the bottom right corner. Tap each developer's homunculi to get a little pop-up showing the team member's name, current role, and messages. Please feel free to tap the comment button to leave a message for team members in that zone. See if you can spot someone you know! (Hint: you can find Daniel there!)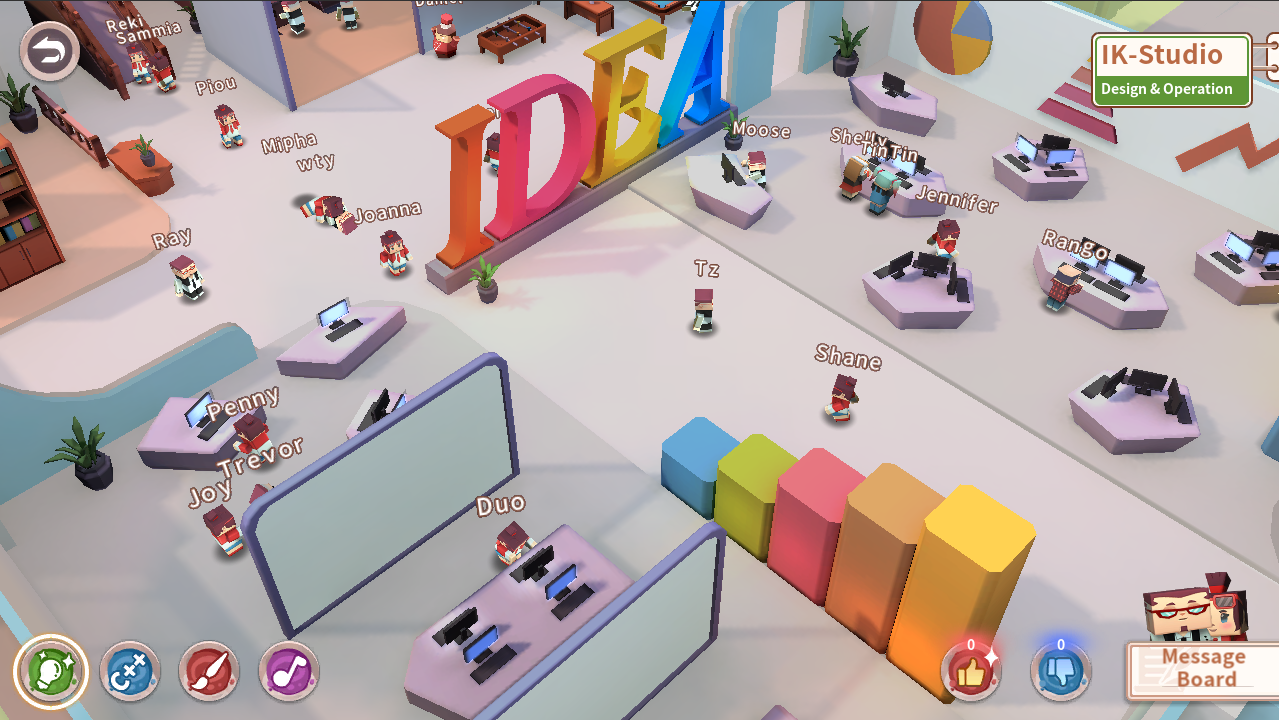 NEW IMMORTALS
Two new support Bowmen Immortals have come to Norheim! One is attuned to water and excels in protecting his companions, the other is attuned to fire and excels at exerting control on the battlefield. Besides, Lords will have new fragment options for two existing Immortals.
Dido
⬤Element: Water
⬤Troop Type: Bowmen
⬤Position: Support
⬤Ultimate Skills: Divine Sovereignty - Grants Frost Armor to all allies for 9s. Frost Armor increases Physical Defense and has a 25% chance of inflicting Chill on the attacker when receiving a Normal Attack, reducing their Attack Speed for 6s.
- Attack Speed Down percentages: 6%/8%/10%/12%/14%/16%/18%/20%
- Defense Up percentages (Rate of the actual Defense increment to the level of the target Immortal): 600%/800%/1000%/1200%/1400%/1600%/1800%/2000%
- An example to calculate Defense increment: Merlin, at level 20, has a level 3 Frost Armor, so his Defense increment is: 20x1000%=200 points.
⬤How to get fragments: Lords can gain initial fragments from the "King of The Hill" event (see the first entry under optimizations, below, for more information on this event). You can unlock the new item from the Daily Deals' Mystery Pearl Shop once you've summoned the whole Immortal. Use Mystery Pearls to buy her fragments. (Note: her fragments are not available in the Market).
Cyrus the Great
⬤Element: Fire
⬤Troop Type: Bowmen
⬤Position: Support
⬤Ultimate Skills: Static Armor - Reduces the Resilience of 2 random enemy units for 6s, and gives them a chance of being Stunned for 3s when receiving a Crit attack.
Stun chances: 7.5%/10%/12.5%/15%/17.5%/20%/22.5%/25%
Resilience Down percentages: 4.5%/6%/7.5%/9%/10.5%/12%/13.5%/15%
⬤How to get fragments: Lords can gain initial fragments from the "King of the Hill" event (see the first entry under optimizations, below, for more information on this event). You can unlock the new item from the Daily Deals' Pearl Shop once you've summoned the whole Immortal. Use Mystery Pearls to buy his fragment. (Note: His fragment are not available in the Market).
New fragment option: Belisarius
You can use Mystery Pearls within the Daily Deals' Mystery Pearl Shop to purchase Belisarius fragments.
New fragment option: Siegfried
You can obtain Siegfried fragments from the Thia's Roulette event. You can check event dates and hours from the Event Calendar. Be sure to keep an eye on it!
OPTIMIZATIONS
1. Added a new "King of The Hill" event - a single server ranked competition.
⬤Rules: This event is divided into 5 phases: Troop Training, Expel Gnomes, Resource Gather, Increase Power and Lord Plunder. The first four phases will occur over 1 day, and the fifth over 2 days. Lords will be competing with each other to accomplish the stated objectives for a given phase for points (by training troops, gathering more resources, defeating gnomes, improving power, or defeating other Lords). Progress reports will also be available along the way once certain score thresholds are met. Lords are free to check out their relative ranking during each phase or total ranking in the event from the Event screen (total ranking refers to the sum of all points achieved in each stage). The top 100 Lords according to the leaderboard when all the event's phases are finished will receive a rank reward by mail.
⬤Event rewards: Each Lord to make it into the top 100 will receive a total rank reward. Rewards improve the higher a Lord's ranking, and will be mailed after the event ends. Top ranking Lords by points will also have opportunity to obtain rare Immortal fragment.
2. Optimized Ruins Exploration: say goodbye to exhaustive searching
⬤Entrance location changed: We have swapped the Chronicle and Ruins Exploration entrances. You can now tap the Ruins icon to the left of the Alliance icon on the main screen to enter Ruins Exploration.
⬤Ruins' Hint: A hint bubble now pops up every 4 hours alerting you to unexplored Ruins near your territory on the Ruins Exploration minimap. Tap this bubble to explore those Ruins directly. You can save up to 5 bubbles at once.
⬤Special Ruins: Once the Lord has explored all the Ruins on the World Map, then special ruins will appear so that you can explore further. Special Ruins come in four different grades: Uncommon, Rare, Elite, and Epic, each of which grant a corresponding reward.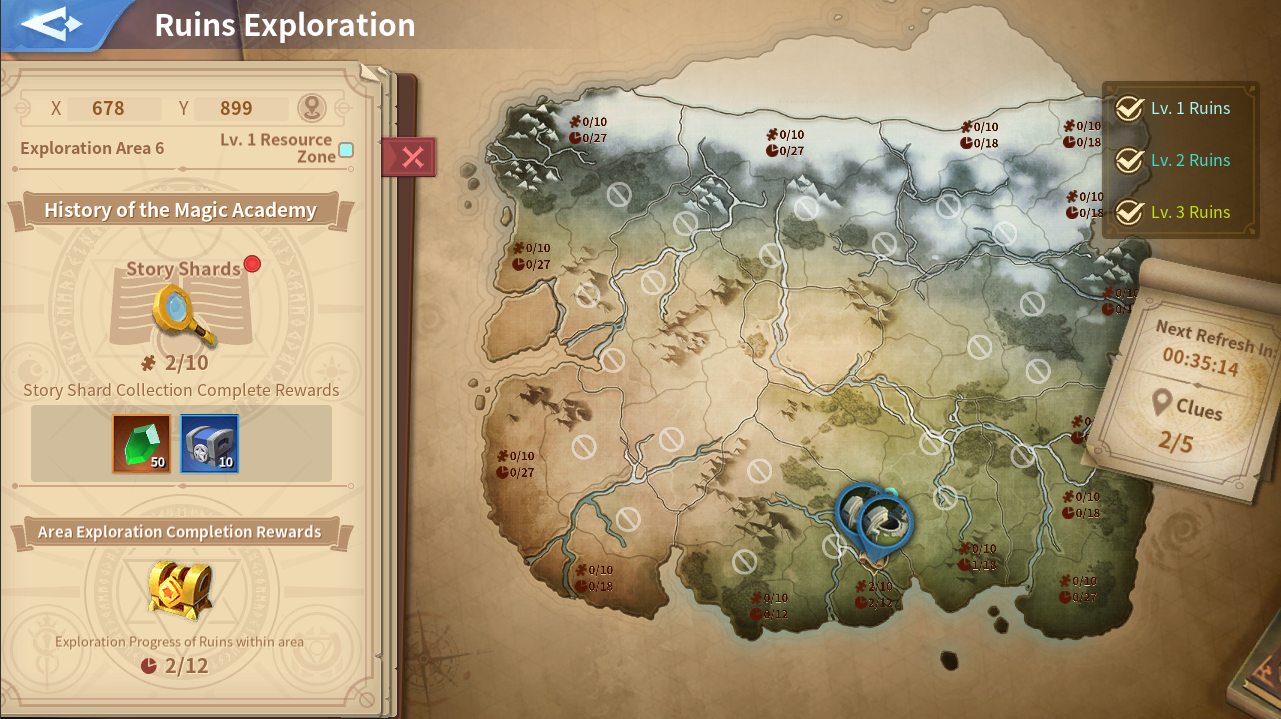 3. King's message board: a publicly available message board.
⬤Message board entrance: Enter the Political System's King Avatar/Contention of Relics King button/World Heart King button. You will find the message board on the right.
⬤Commenting requirements: Only Lords at Level 20 or above will be permitted to leave a comment or reply to others' comments.
⬤Comment maximum: Only 10 comments may be left or used in reply per day. The message board will only save the most recent 200 comment threads, and only the 200 most recent replies to a single thread.
4. New character delete feature: use with caution!
⬤Conditions:
a) The character's Castle cannot exceed Level 9.
b) The account contains no fewer than 2 characters in total.
c) The total amount of Store Purchases spent on the character in question cannot exceed $9.99.
d) The character in question cannot be currently logged in.
e) The character may not be an Alliance leader.
⬤Tip: We cannot restore a deleted character. Please exercise due caution if you choose to use this feature.
5. Combined entrances
The Well of Time, Contention of Relics, and Illusion Battlefield will now all be accessible from the Well of Time entrance. Any progress or phase countdowns will now be displayed on the same interface, making it easier for Lords to check these details.
6. Optimized the Revenge feature - Valiant warriors now have a more convenient method of exacting justice
⬤Assists: The Revenge button will now be displayed in the Battle Report when assisting Allies' defense of their territory.
⬤Expiration: The Revenge button on a specific Battle Report will no longer be usable 48 hours after the mail arrives (however, the Revenge button in the pop-up after a defeat does not expire).
7. Added a new way of gaining Shadow Dragon Crystal
A new Shadow Dragon Crystal has been added to the Daily Deals' Mystery Pearl Shop for Lords at VIP Level 15 and above, and which may be purchased with Mystery Pearls.
8. Rebel Tracks: superior rewards
We have added a new score progress chest to Rebel Tracks. Achieve the score to open the chest for a great reward.
9. New decorations
⬤Territory Emojis: We've added 3 new emojis: Medb Heart4You, Peter the Great Like, and Merlin Fantasy: The Like and Fantasy are for sale in the Daily Deals. The Medb Heart4You can be obtained from the upcoming Festival Event. Stay tuned for more details.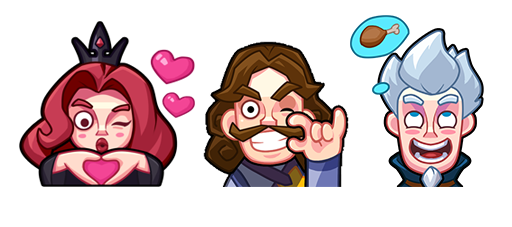 ⬤Facebook Top Fan Avatar Frame: Lords to interact with our official public Facebook page frequently can receive a Top Fan badge. Feel free to take this adorable Avatar Frame back home after visiting the Top Fan event soon to be held on our official page!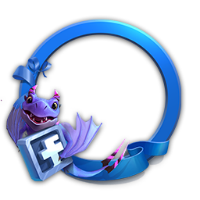 ⬤New chat stickers: A series of new chat stickers some of which were adapted from jargon terns have been added.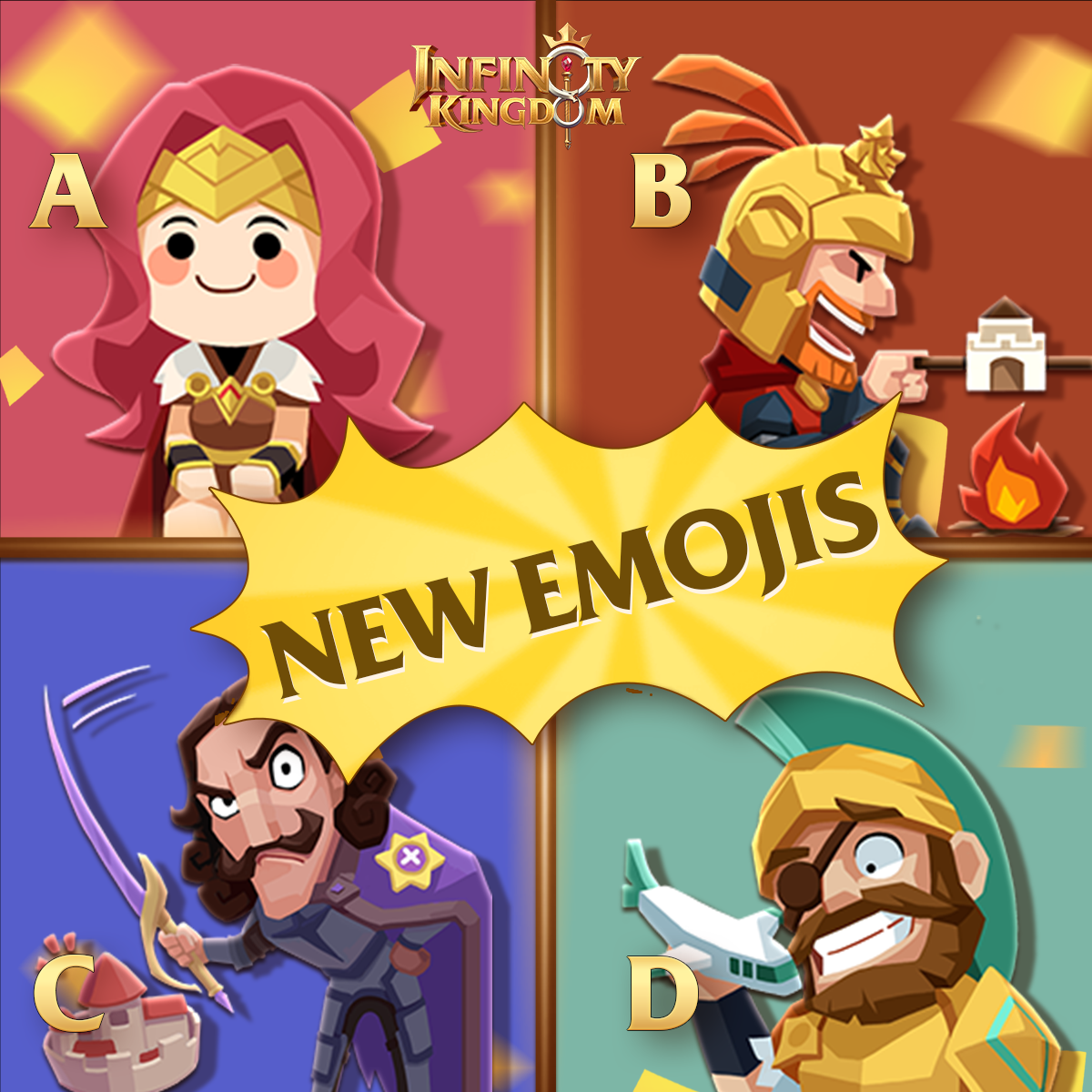 10. Balance changes
⬤Tower of Knowledge Passive Skills: The area of effect for Shelter has been increased to all units on the same side.
⬤Lord talents:
1) The Might of Longbow's back row bonus damage percentagehas been increased from 10% to 20%.
2) Sneak Attack max HP has been adjusted downwards from 10% to 7.5%.
⬤Contention of Relics Personal Contracts
We have made some optimizations to personal contracts to boost engagement while still retaining a strong challenge aspect.
1)We have decreased the difficulty of the following contracts: Army Expansion, Battle Medic, Forbidden Zone Protector, Overflowing Energy
2)We've increased difficulty and rewards for achieving the following contracts: King's Aspect, Conqueror, Shock
11. UI Optimizations
We have made some additional refinements to the alliance chest and alchemy effects, enhanced Academy Technology icons, and beautified the Contention of Relics tally screen in the 1.3 patch.
12. Multilingual voice acting
We have given Immortals a stronger 'presence' with a full set of customized voice-over packs for all languages. Immortals continue speaking whatever language is they used to speak in Norheim. Remember to have a listen after the patch!
13. Improved relocation
Lords will no longer have to wait to relocate again if a relocation fails because the destination is already occupied, but may immediately initiate a new relocate.
That's all the changes coming with the 1.3 update. Thanks for reading! If you have any questions, then please feel free to get in touch with us over Facebook, discord, DK, or any other official channels. Immortal Artifacts in the desolate void await you. Do you dare brave the desolate darkness of the Evernight Labyrinth for the artifact schematics that might endow greater strength to your treasured Immortals? We await your answer!
The Infinity Kingdom Team